TUITION AND FEE SCHEDULES
Approved tuition and fee schedules are published immediately following the January School Board meeting. Every attempt is made to hold tuition and fee schedules to their lowest level while allowing New Braunfels Christian Academy the ability to provide a quality education, an enriched student life, fair faculty and staff compensation, and a fiscally-responsible financial position for the organization. A list of the current Tuition and Schedule is available in the office of each campus and on the school's website.
An application fee of $150 is the first fee paid by a prospective new student. It is intended to cover the costs to the school of the initial review process. This fee must be paid before the school will begin the evaluation process. The fee is non-refundable regardless of the final outcome of the application process.
This fee is intended to cover the costs of school registration, testing, interviews, and development of academic schedules and classroom assignments for the upcoming year. For new students who have completed the Application process and have been accepted for admission to New Braunfels Christian Academy, to guarantee a position in his or her grade level, the enrollment packet needs to be completed along with payment of the enrollment fee of $175. All enrollment fees are non-refundable.
REENROLLMENT/GENERAL SERVICES FEE:
NBCA has adopted an automatic reenrollment system. Reenrollment begins in February of each year for returning students. All currently enrolled students will be automatically reenrolled for the upcoming school year. In March, a $200 deposit will be charged to the family's FACTS account for each student for registration renewal and applied toward the applicable General Services Fee based on grade level. New families will be billed $200 of the General Services Fee for each student at the time of enrollment. The balance of the General Services Fee may be paid in full or if not, the balance will be applied to the selected tuition payment plan.
The General Services Fee, which is grade specific, covers all items that are required for the daily operational flow of the classroom and the school. It is established to keep parents from being charged frequently by the school or classroom for smaller fees which cover required items. Several items are optional and are therefore not covered.
Tuition represents the majority of the income used to cover the cost of educating our students. Once a family signs the Enrollment Contract to attend New Braunfels Christian Academy, the family has executed a commitment to pay the tuition balance in full and in a timely manner. Because the school will make annual budgets, teacher commitments, and other agreements based on the number of students enrolled in the school, tuition may not be canceled without full payment of two months tuition beyond the month of enrollment by the family. All students that are enrolled in the school for the upcoming new school year, must notify the Business Office before June 1 and officially withdraw from school to be considered released from their enrollment contract. After June 1, two months of tuition is due even if you choose to withdraw your child before the first day of school.
As part of completing the enrollment packet, you will be instructed to set up a FACTS payment plan. FACTS is a third-party tuition management company the school utilizes for tuition payment. Follow the instructions carefully and you will be given the option to select any of the following payment plans. Payments can be made with an automatic draft or credit card. If you are unable to use the payment plans that are available, please contact the Business Office at 830-629-1821 or by email at businessoffice@nbcatx.org, to see if an alternate plan can be arranged.
Payment for the Semester: Families may choose to pay their tuition in two equal installments on August 5 and January 5.

11 Month Payment Option: Payments are due the fifth of every month beginning July 5 through and including May 5. You will forfeit placement for your child(ren) if tuition is not paid when due.

12 Month Payment Option: Payments are due the fifth of every month beginning June 5 through and including May 5. You will forfeit placement for your child(ren) if tuition is not paid when due.
Students whose parents/guardians have an outstanding obligation from a previous school year will not be permitted to start school the next school year until the account is paid in full or a payment schedule has been arranged with the Business Office.
All payments agreed to by school families in regards to their FACTS Tuition Management Account, must be made as scheduled and will be considered late if not paid as agreed. A late fee of $30 will be assessed if tuition is late.
If tuition 60 days or more delinquent, students may be refused admittance to class until the account is brought to a current status or payment arrangements have been made with the Business Office.
A charge of $25 will be assessed on all returned checks.
Students that are accepted and placed on the school's roster after the start of school will pay an annual tuition based on a revised schedule of payment which is available in the Business Office.
Parents are expected to be diligent in meeting their financial obligations to the school. If circumstances dictate a change in normal payment procedures, or if you have a financial emergency and are temporarily unable to pay, please call the Business Office to discuss alternative payment arrangements before you withdraw or get too far behind in payments. You may qualify for financial aid, if available.
Families who have not met all current financial obligations by the last day of the semester will not receive report cards, transcripts or diploma (in the case of graduating seniors) until all obligations are paid in full.
Graduating seniors must have tuition paid in full and all other school debts (including library fees, textbooks, outstanding tuition, lunches and sports fees, etc.) paid prior to May 10th in order to participate in graduation ceremonies. The school will not release a student's official records/transcripts or grades until all financial obligations have been met.
Families withdrawing their student(s) from school during the school year are still responsible for honoring an executed Enrollment Contract. Students withdrawing must pay all tuition due for months attended plus a penalty for early withdrawal that is equal to 20% of annual tuition. These fees and all other school debts (including library fees, textbooks, outstanding tuition, lunches, detention fees, etc.) must be paid before any official records/transcripts or grades are released to the parent or to another school. Parents wishing to withdraw their student(s) should contact the campus principal to begin the withdrawal process.
A limited amount of tuition assistance is available through a fund established for that purpose and designated by School Board approval. Applications must be submitted through FACTS Financial Aid Application starting as soon as February 1, with the first distributions made in April. We encourage families to apply for tuition assistance. All families may apply for tuition assistance, but awards will only be awarded when money for tuition assistance is available and to families who have enrolled their students and are in good standing. Financial aid is distributed on a first-come, first-serve basis, with a maximum benefit of 35% of total tuition. Once the amount in the fund is exhausted, the financial aid application will be closed for that school year.
Tuition assistance is intended for qualified parents with financial needs that would otherwise prevent enrollment of their children. All tuition assistance decisions are made by the Financial Aid Committee and are based on recommendations from an analysis made by FACTS. Tuition assistance will not be considered for parents who are behind on tuition payments.
In order to apply for Financial Aid, new families must have completed an application for enrollment to NBCA. Once the school application has been submitted, online access for FACTS Financial Aid is available. The application for Financial Aid can be accessed from the family's application account.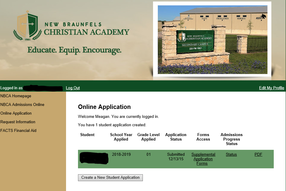 Returning families are required to submit an application for financial aid each school year. Log in to your Parents Web account from the green column on the left, click on FACTS. Once you do this, the boxes on the right will appear. From the bottom FACTS Links box, select Apply for Grant & Aid. This will take you to the Financial Aid application. Your screen will look like this: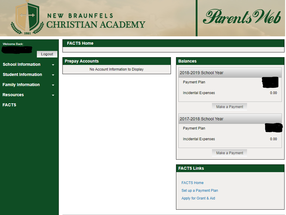 Both new and existing families will be contacted by the school with a decision on financial assistance.
For assistance in completing an online financial aid application, please contact:
FACTS Support
866-412-4637
Monday - Thursday 7:30 am - 7:00 pm
Friday 7:30 am - 5:00 pm
NBCA will charge an amount to reimburse the school for the expense incurred in processing and handling transactions using debit or credit cards. This convenience fee will be a percentage of the total amount processed, and is subject to change at any time without notice. On August 1, 2018, the credit card usage fee is 2.89%. The current fee can be obtained from the school's business office.