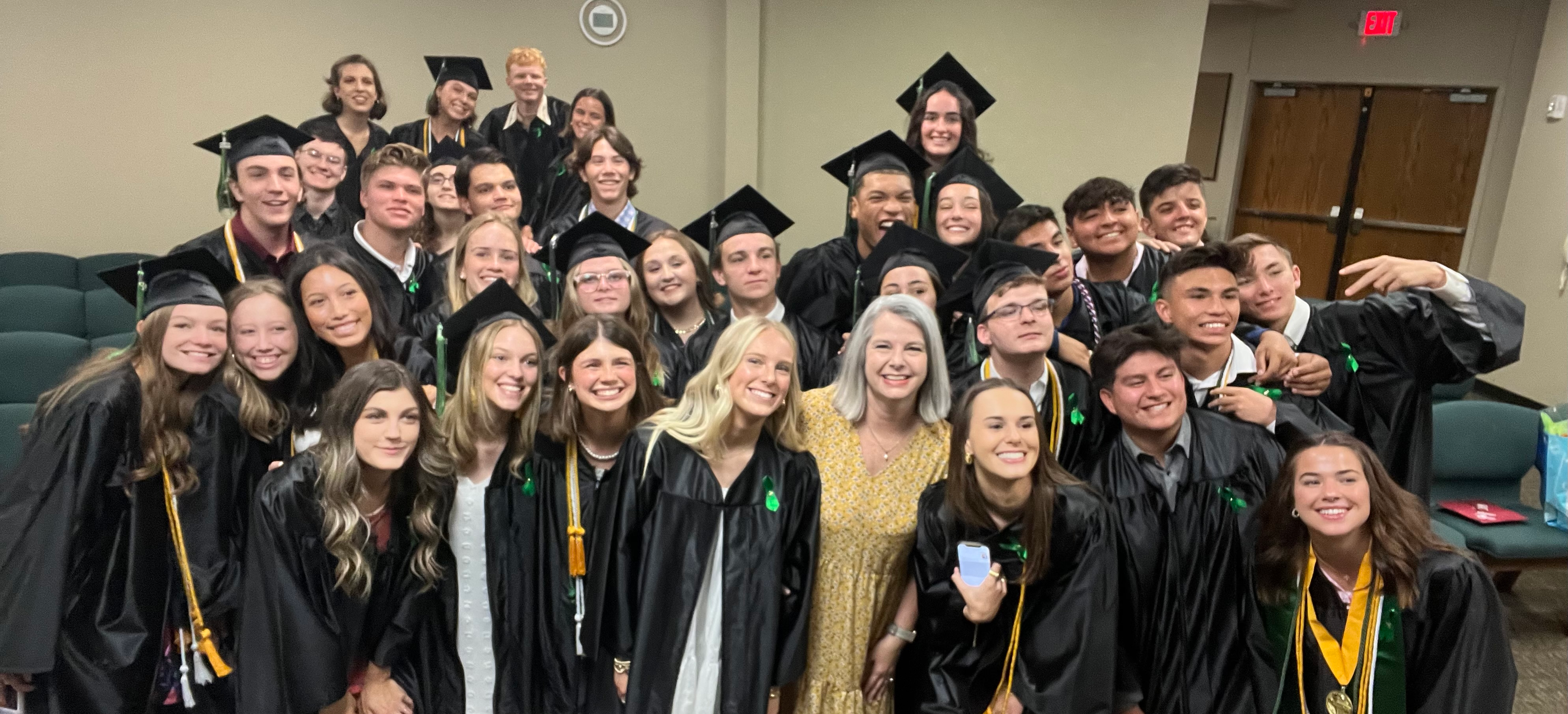 HIGH SCHOOL
Christian Leaders Learn Here
The New Braunfels Christian Academy high school program endeavors to educate today's youth for tomorrow's world, giving them the confidence and leadership skills necessary to take charge of their futures. We acknowledge that each student is uniquely made by our Creator, so we provide the environment for students to discover and reflect upon their God-given gifts and talents intellectually and spiritually as they achieve individual excellence and grow in Christian discipleship.
Students benefit from a traditional and challenging academic setting organized in an eight period day with classes meeting for fifty minutes. Advanced Placement (AP) courses are offered in Government and Politics, Economics, US history, and Calculus. Dual Credit courses, offered in conjunction with Colorado Christian University and Howard Payne University, include English composition I and II, British and American literature, and College Algebra. Bible study is a vital part of the curriculum, and a biblical viewpoint is regarded in all avenues of study.
Students may choose from a variety of elective course offerings. In coordination with the Texas Parks and Wildlife Department, NBCA also offers an outdoor education course. Students attend chapel weekly.
NBCA offers two programs of study for high school students. The Required Program includes the minimum number of credits students must earn in order to graduate from NBCA and corresponds to the Texas Recommended High School Program. The Distinguished Scholars Program requires additional courses and advanced measures for students pursuing a more rigorous, college-preparatory curriculum. In recognition of their exceptional effort, students who complete the Distinguished Scholars Program will receive specially-noted diplomas at graduation. The specific requirements for each program are outlined in the following chart.
| Subject Area | Required Program | Distinguished Scholars Program |
| --- | --- | --- |
| Bible* | 4.0 | 4.0 |
| English* | 4.0 | 4.0 |
| Math* | 4.0 | 5.0 |
| Science* | 4.0 | 4.0 |
| Social Studies* | 4.0 | 4.0 |
| Foreign Language | 2.0 | 3.0 |
| Physical Education | 1.0 | 1.0 |
| Fine Arts | 1.0 | 1.0 |
| Speech and Debate | 1.0 | 1.0 |
| Elective | 1.0 | 2.0 |
| Total | 26 | 29 |
*Students must be enrolled in the (5) core classes every year.
Distinguished Scholars Program:
Valedictorian and Salutatorian will only be selected from among the Distinguished Scholars. While other students may rank high in their graduating class after completing only the required program, they will not be eligible for Valedictorian or Salutatorian recognition.

Valedictorian and Salutatorian will only be selected from students who have been enrolled at NBCA for at least two consecutive years.

Student must include Calculus or Dual Credit College Algebra.

At least (5) of the (29) credits earned must include advanced courses such as Honors, AP or Dual Credit.

The NBCA Distinguished Scholars Program does not correspond to the Distinguished Achievement Diploma for Texas public schools.

Study Hall or extra PE/Athletic credits do not count toward the additional electives.
Graduation Ceremony Honors:
White Cord- Earned 93% or higher in high school classes.

Green Cord- Earned the Distinguished Scholars Program.

Gold Cord- Member of the National Honor Society.

Valedictorian and Salutatorian - Medals